ATAK support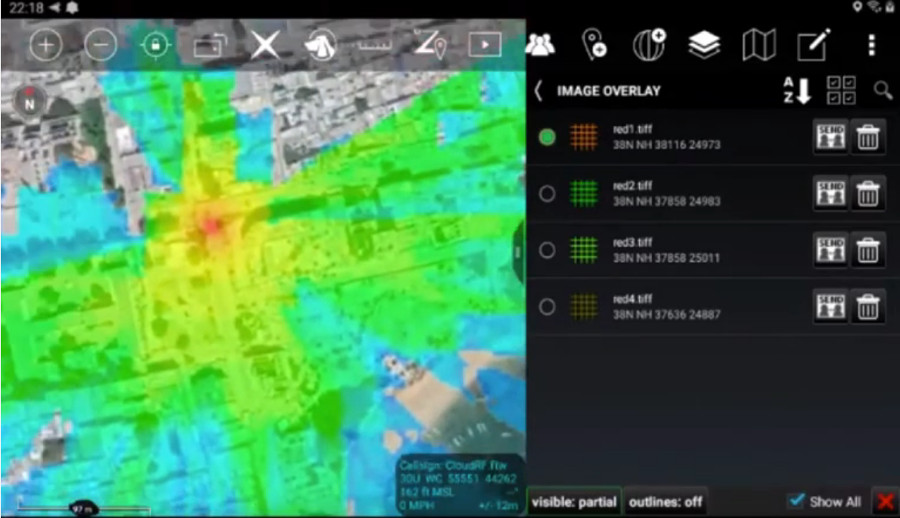 Android Team Awareness Kit (ATAK) is a popular situational awareness app in service with Military and Civil customers.
It lets uses add Geo-spatial overlays, the likes of which the Cloud-RFTM API can generate.
There are several ways to get data onto ATAK with varying levels of success and maturity. Ultimately an ATAK plugin would be the preferable route but this is a substantial Java project and we stopped doing Android+Java 6 years ago as it was exhausting keeping up with the fragmented Android landscape.
The KML overlay "Keyhole Radio" for Google Earth doesn't work yet because KML viewFormat is not supported. This is fundamental to how Keyhole Radio knows where to place the transmitter (centre of view). We've opened a ticket to get this fixed.
We want to get the same 'KML plugin' going for ATAK so are holding out for fixes to these issues. In the meantime you can load layers on ATAK like so:
GeoTIFF image layer
Request a GeoTIFF download from your Cloud-RF archive, then copy the file to your Android device, or pull it from the URL.
Once on the device, add an IMAGE OVERLAY and select the GeoTIFF file. You may need to adjust the opacity via the ATAK layer details circular menu.
SHP file
As with GeoTIFF, copy and load a SHP file as an IMAGE OVERLAY. Unfortunately, the SHP file will not have any styling so expect to see a white 'murder-silhouette' showing only the coverage boundary. If you can add SHP styling then the data is all there to be styled.
CoT proxy
A Python Cursor-on-Target proxy has been created to take a callsign location and create RF coverage layers.
https://github.com/Cloud-RF/CoT-proxy
This works by proxying calls to the API via an intermediate server. The ATAK app will then refresh a network KML for that callsign from the users folder eg.
/users/{uid}/BROADSWORD.kml