ATAK support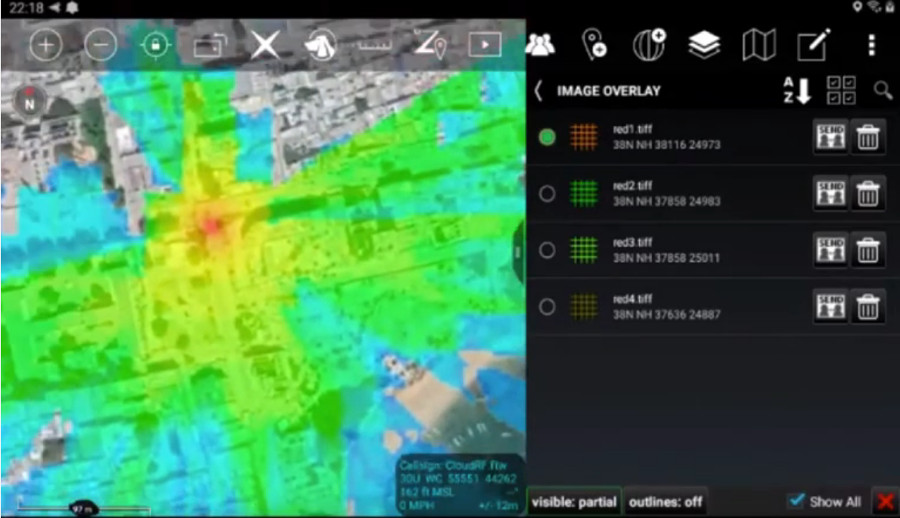 Android Team Awareness Kit (ATAK) is a popular situational awareness app in service with Military and Civil customers.
It lets uses add Geospatial overlays, the likes of which the CloudRF API can generate.
There are several ways to get data onto ATAK with varying levels of success and maturity. Ultimately an ATAK plugin would be the preferable route but this is a substantial Java project which we don't have the time for – and we stopped doing Java 6 years ago :p
The KML overlay "Keyhole Radio" for Google Earth doesn't work yet due to 2 issues noted in the ATAK source code:
As of Oct 2020, https appears to not be supported for network KML – which is a bit strange/alarming. (Commit e97b9a26a0849f87b7cc97c0973ef01b28cffb77)
KML viewFormat is not supported. This is fundamental to how Keyhole Radio knows where to place the transmitter (centre of view). We've opened a ticket to get this fixed.
We want to get the same 'KML plugin' going for ATAK so are holding out for fixes to these issues. In the meantime you can load layers on ATAK like so:
GeoTIFF image layer
Request a GeoTIFF download from your Cloud-RF archive, then copy the file to your Android device, or pull it from the URL.
Once on the device, add an IMAGE OVERLAY and select the GeoTIFF file. You may need to adjust the opacity via the ATAK layer details circular menu.
SHP file
As with GeoTIFF, copy and load a SHP file as an IMAGE OVERLAY. Unfortunately, the SHP file will not have any styling so expect to see a white 'murder-silhouette' showing only the coverage boundary. If you can add SHP styling then the data is all there to be styled.
KML / KMZ file
Sadly the KML support isn't as comprehensive as it could be. If you can load a KMZ file you will get the Tx marker only. The colour key (screenOverlay) and all important coverage layer (groundOverlay) will not render presently on ATAK.