ATAK support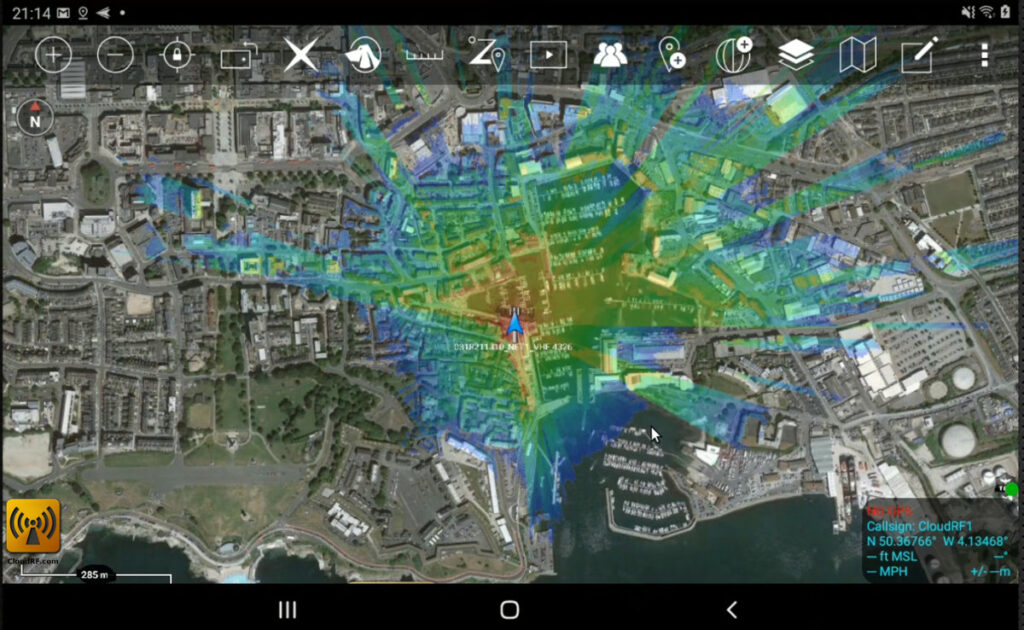 Android Team Awareness Kit (ATAK) is a popular situational awareness app in service with Military and Civil customers.
It lets uses add Geo-spatial overlays, the likes of which the Cloud-RFTM API can generate.
There are several ways to get data onto ATAK but unfortunately the KML overlay "Keyhole Radio" for Google Earth doesn't work yet because KML viewFormat is not yet supported. This is fundamental to how Keyhole Radio knows where to place the transmitter (centre of view). We've opened a ticket to get this fixed.
We've developed an ATAK proxy to interface between the Cursor-on-Target (CoT) XML messages and the API which was used to create these demos.
Demo
Video

Network test

Check coverage against a network dynamically with the 'best server' API.

Chat bot

Check coverage with a trigger word eg. 'VHF' and the 'area' API.

Follow me

Observe your RF footprint in real time with the 'area' API.
If you don't want to integrate programmatically you can load open standard GIS layers on ATAK like so:
KMZ layer
Download your CloudRF layers as KMZ and open directly in TAK via the import manager > local file.
You may need to adjust the opacity via the layer details circular menu.
GeoTIFF layer
As with KMZ, download in this format and copy to your device.
Once on the device, add an IMAGE OVERLAY and select the GeoTIFF file. You may need to adjust the opacity via the ATAK layer details circular menu.
SHP file
As with GeoTIFF, copy and load a SHP file as an IMAGE OVERLAY. Unfortunately, the SHP file will not have any styling so expect to see a white 'murder-silhouette' showing only the coverage boundary. If you can add SHP styling then the data is all there to be styled.
CoT Proxy
A dummy Cursor-on-Target (CoT) proxy has been written to receive chat messages to trigger RF calculations. This saves time and eliminates error as complex propagation model, environmental and antenna parameters are pre-defined in templates.
This can be hooked into a proper Python TAK server to provide an elegant network plugin and powerful LiDAR accurate RF modelling capability. With a private server this will deliver a cloud equivalent capability without requiring internet access.
For more information please email support@cloudrf.com